All three full-day courses confirmed at SEETEST 2023!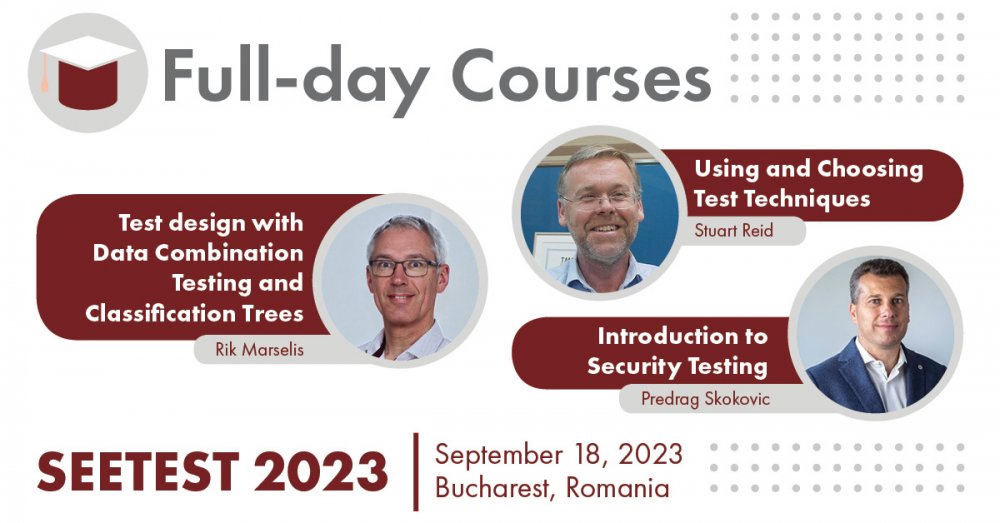 At SEETEST we value continuous lifelong learning – which is why we have brought to you another opportunity to do just that – three pre-conference full-day courses! These courses are the perfect opportunity to dive deeper into a specific subject of interest, and are led by some of our tutorial speakers – one of the best in the world in their respective fields.
The pre-conference courses will be held on September 18 in a full-day format. You can choose from:
Using and Choosing Test Techniques
by Dr. Stuart Reid: In this course Stuart will provide delegates with practical guidance on the application of test case design techniques and measures of test coverage, and advice on the choice of which of these techniques and measures to use. The aim is to provide the delegate with a toolset of techniques from which they can then choose most effectively. This course will also provide delegates with practical hands-on experience of applying the most popular test case design techniques to example problems, each of which is supported by model answers.
Test Design with Data Combination Testing and Classification Trees
by Rik Marselis: In it participants will learn about DCT & CT and how to use the techniques (with Excel and PowerPoint templates and a tool that determines the pairwise combinations) at the very next day they return to work. Some of the objectives this course will cover are:
• How to determine data items and classes
• How to draw a classification tree to get an overview of the data structure
• How to combine the classes into test cases
• How to apply a tool to determine "pairwise coverage"
Introduction to Security Testing
by Predrag Skokovic: Predrag's course is designed for beginners eager to step into the world of security testing. This hands-on training, rooted in the OWASP Top 10 and the Web Security Testing Guide (WSTG), imparts essential security testing concepts and their practical applications. Participants will delve into the OWASP Top 10 security risks, learn how to use the WSTG effectively, and apply this knowledge in identifying security risks in a web application under test. This interactive course serves as a solid launchpad for those venturing into the field, cultivating a clear understanding of the principles and methodologies of security testing.
Learn more about the courses
here
Tickets for the courses are sold separately and are of limited capacity. Make sure to get yours now, as they are going fast!
Back to News