September 27-28, 2018 | Belgrade, Serbia
Speakers
ERIK VAN VEENENDAAL
(Bonaire)
Requirements Engineering for Testers,
Test Strategies, Analytical Testing and beyond
OLIVIER DENOO
(Belgium)
Whtvr srs wnt (whatever users want)
VIPUL KOCHER
(India)
Basics of AI and AI in Testing
JAN JAAP CANNEGIETER
(Netherlands)
Flexible Test Management
METTE BRUHN-PEDERSEN
(Denmark)
Typical Challenges when Scaling Agile
YARON TSUBERY
(Israel)
Load & Performance: Basic practical principles,
A way to grade your Project, reduce your Backlog and a Predictive hint
JEROEN ROSINK
(Netherlands)
A change to people-oriented test management
Ingo Philipp
(Austria)
Reality Check: The Role of Manual Testing in DevOps
MARIJA NESKOVIC
(Serbia)
Discoveries behind performance
GERIE OWEN
(USA)
How Did I Miss That Bug: Managing Cognitive Bias in Testing
PETER VARHOL
(USA)
How Did I Miss That Bug: Managing Cognitive Bias in Testing
ELLINOR KWOK
(France)
The power of parallel testing to speed up your tests and enjoy a coffee break
THOMAS CARPENTIER
(France)
The power of parallel testing to speed up your tests and enjoy a coffee break
ALEXANDER TODOROV
(Bulgaria)
How everyday testing can help your security
ALEKSANDAR RISTIC
(Ireland)
Agile Transformation Guide for Test Engineers
GJORE ZAHARCHEV
(North Macedonia)
Reinvented Regression testing
MILENA LAZAREVIC
(Serbia)
Challenges of testing complex IoT systems and devices
DEJAN NIKOLIC
(Serbia)
Challenges of testing complex IoT systems and devices
ANTON ANGELOV
(Bulgaria)
Infinite Improbability Testing- Execute All Tests in Parallel
BENEDIKT WOERNER
(Germany)
The Knowledge of Groups - A Practical Conversation on Collaborative Testing Methods
KATHARINA WARAK
(Germany)
The Knowledge of Groups - A Practical Conversation on Collaborative Testing Methods
MARCIN SIKORSKI
(Poland)
Internet of Things – tsunami that will kill testers
MIRJANA KOLAROV
(Serbia)
Balancing your test automation with exploratory testing
MACIEJ WYRODEK
(Poland)
Testing Lesson learned in customer support
STEFANI MAJIC
(Croatia)
Future-Proof Yourself and Prepare for Blockchain
EMA BOZIC
(Croatia)
Future-Proof Yourself and Prepare for Blockchain
Location
SEETEST 2018 was held at Crowne Plaza hotel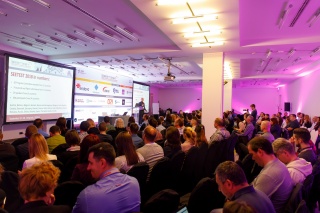 Crowne Plaza® Belgrade is a stylish hotel from InterContinental Hotels Group which is located in the heart of New Belgrade business district with conference facilities, fine dining and an indoor pool.
It is a few minutes drive from Belgrade Central train station and city center attractions like Belgrade Fortress, set beside the Sava and Danube Rivers. Belgrade Nikola Tesla Airport is 15 minutes away by car.
Address:Vladimira Popovica 10,
11070 Belgrade, Serbia
Tel: +381 11 22 04 004
SEETEST 2018 Social event was held at Top of the Hub Restaurant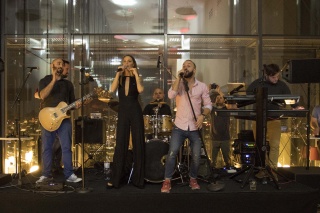 The venue is located in New Belgrade, in the Business center Usce on the 25th floor, overlooking the confluence of the Sava and Danube, in the heart of Belgrade.
Top of the Hub is near several major hotels in Belgrade, 30 minutes from the airport, 20 minutes from the railway and bus stations, and 5 minutes walking distance from Crowne Plaza.
Address: 25th floor UŠĆE Tower Bulevar Mihaila Pupina 6,
11070 Novi Beograd, Serbia
Tel: +381 (0)11 22 01 500
Sponsors
Photos